At SIHTM, we believe that champions are made, not born. We believe that every student's potential, skills, and talents can make him or her a Champion in his or her future field and career.
Our family continues to grow, not only with our population and alumni, but in our community work and involvement, outreach and extension, and capacity-building programs. 
With our local partners and international linkages and an annual lineup of activities and programs, the University of Baguio School of International Hospitality and Tourism Management lives up to its moniker through decades-strong commitment…the Home of the Champions!
Student Engagements and Involvements
Guided by the curious nature of a Champion, SIHTM students are involved in various interests, making them excel not only in co-curricular programs, but in extra-curricular and athletic endeavors as well
Symposia, Conferences, and Seminars
Inspired by the intelligent nature of a Champion, SIHTM chairs, instructors, and staff updated students about the ins-and-outs and evolving practices and strategies of tourism and hospitality industries through capacity-building programs.
Extension and Outreach Efforts
Motivated by the giving spirit of a Champion, we invite you and join us making this world a much better one than when we are born to it. With our socio-civic engagements, environmental activities, and professional development causes, we believe that one of our main work as a school is to deliver projects and events that will benefit our larger society.
Your UB education is equal parts experience and training, industry immersion, and executive build. Proud alumni of the School of International Hospitality and Tourism Management are found all over the globe, attending flights, managing and serving in cruises and events, leading restaurants and hotels, and even establishing their own business.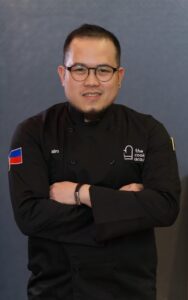 Working abroad as a corporate executive chef is an achievement for me. But despite what I was already enjoying as well as being able to provide for my family, there is still emptiness in me.
Read More »